Verein Deutsches Hopfenmuseum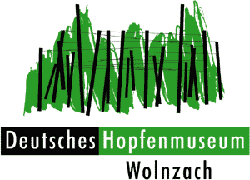 The "Verein Deutsches Hopfenmuseum e.V. Wolnzach" is the museum's association. It was established in 1984 with the aim of setting up a large museum for the history of hop growing in Germany. Currently, the association comprises approximately 260 members including also institutional members. You can become a member, too! Currently the German Hop Museum employs a full-time director who takes care of all matters concerning the museum. Moreover, there are some typists and temporary staff working there. All technical matters are handled by the municipal building yard Wolnzach.
Become a member of the association
If you are interested in the cultural and social history of hops, beer and brewing or in the history of the Hallertau region you should become a member of the "Verein Deutsches Hopfenmuseum Wolnzach e. V.". Thus you will show that you share our mission:
Knowledge about the history of hop growing in Germany and the Hallertau region will be recorded.
This will be done in a professional way.
Interesting old hop tools and equipment will not end up being dumped but will go to the museum.
Preservation of an important chapter of the Hallertau history.
Making all these things available for future generations.
We can get on with our work.
Support the work of our museum! The annual membership fee is only 12.30 EUR.
Sponsorships are possible from 250 EUR per year.
Of course, further donations are also very much appreciated.
1. Chairman: Johannes Sommerer
2. Chairman: Alois Brummer
Financials: Wilhelm Trapp
Writer: Helmut Berger
Delegation: Johann Meier, Rudolf Pfab, Alois Siegmund, Max Weichenrieder