Hop growing before mechanization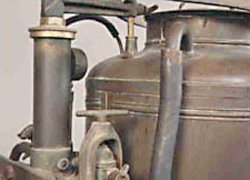 In the middle of the 1920s, the fungal disease "peronospora" was threatening hop production. Since then, hop growers have used pest management devices. The first spraying devices were operated manually and showed a very bad performance. Here you can see details of one of the first motorized sprayers around 1930.
Hop growing is very labor-intensive. For a long time, most works have been done by hand. In spring, farmers uncovered the rootstocks with a hoe. Then, every single rootstock was pruned back using a simple "hop knife". For centuries, wooden poles have been used as a support for every single vine. Only as from about 1900, special wire trellises replaced the poles. Every single vine had to be trained onto the pole or wire by hand. In this respect, nothing has changed since then. Ever since the cultivation of hops, growers have been facing problems with pests and diseases. Since 1926, pesticides known from wine growing have been applied. The first spraying devices were all operated manually.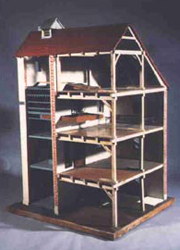 This is a model of a hop kiln commonly in use since the 1950s. This kiln is equipped with pull-out drawers and oil firing.
The annual hop harvest in autumn was also done by hand up to the 1960s. Huge numbers of workers from the cities and poorer regions came to the hop growing areas and stayed for two or three weeks. Depending on time and region, the vines were picked either directly in the hop garden or on the farmyard. The pickers were paid according to the picking amount. Only around 1960, when wages had become too high and workers too scarce, picking machines came into use.
After the harvest, hops should be dried immediately. For long times, hop farmers have used simple wooden frames on which they heaped up the hops. In Central Franconia large-scale hop growers even built special drying barns with movable openings in the roof where the hops were dried in the attic. Only around 1900, wood-fired drying kilns came into use.