Trading hops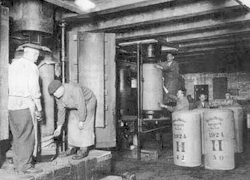 Hops are pressed in "ballots" in order to facilitate sales and particularly transport to overseas. Special "hop presses" are used for this. The first models of these heavy-weight presses were designed in Nuremberg as early as around 1830.
The dried hops are accurately weighed and then a seal is attached ensuring the quality and the correct certification of provenience. A 1929 law specifies that only sealed hops may be sold. During the last century, a community of rich hop merchants developed. Nuremberg became the hop trading center. For a long time, only the supply /demand balance has determined the annual prices on the hop market. This, of course, opened the door to speculation. Efforts of creating special hop markets and thus trying to subject hop trading to public law did not succeed.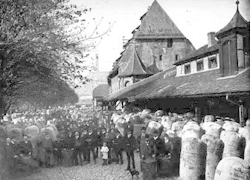 The hop market in front of the Mauthalle at the Kornmarkt in Nuremberg, around 1910. After World War I, the Nuremberg market lost its importance.
State control of cultivation and the National Socialists' persecution of Jewish merchants who had been controlling the trade in the 1930s put a stop to this trade. After having purchased his merchandise, the merchant sent little samples of hops to his brewery clients. The cones should be presented in a positive manner. Therefore the merchants used a special blue paper for wrapping the samples. To distinguish good and bad hops, the merchants and clients only had their five senses at their disposal. The cones' aroma, color, feel and appearance determined their quality and thus their price.