Museum building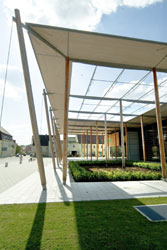 In the winter of 1999/2000, the local council of Wolnzach decided to set up the future German Hop Museum in the center of Wolnzach. The originally planned location on the former brewery area had meanwhile been moved to the "Lipphof" area on the opposite side. In 2000, an architectural competition for an exhibition hall was presented for that. Almost 200 applicants registered and the decision was made from 29 submissions. The winner was the concept of the Munich-based architectural office Krug & Partner presenting a building in the shape of a stylized hop garden with a semitransparent roof construction and steel girders reminding the viewer of the juxtaposition of hop poles. Spectacular and traditional at the same time, this modern architecture set up a distinct connection to the traditions of the hop growing area. Meanwhile this concept has been modified by a less expensive variant and the glass roof has been replaced by a wooden roof. An underground car park was built underneath the building. The responsible body is the "Zweckverband Deutsches Hopfenmuseum" comprising at equal shares the municipality of Wolnzach, the district of Pfaffenhofen/Ilm and the administrative region of Upper Bavaria. The municipality of Wolnzach on behalf of the "Zweckverband" is the building's proprietor. The building project was launched in spring 2002. The first opening day was January 22, 2005.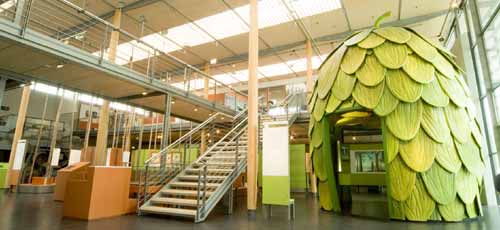 Ausstellungsgestaltung
Exhibition architecture: Büro HundB, Tido Brussig and Christian Hölzl, Munich.
The life size copied figures and the model of landscape were build by the artists Afra Dopfer and Michael Schrattenthaler from Munich.
The large hop cone was realised by Günther Politor from Werk 7, Unterschweinbach.
The interactive map was programmed by Alta4 Geoinformatik, Trier.
The interactive hop roulette was made by the media designer Monika Waigand, Munich.
The reconstruction of the hop pickers fountain was designed by the artist Siegwart Donat from Munich.
The trellis puzzle, the pole lifter test und the pruning model were constructed by Felix Scharstein, Berlin.